Breeder United Selections cherishes and supports its growers in every possible way. And growers do their utmost to produce perfect roses to make consumers happy and to keep the brands from
United Selections
strong in the market. This creates special relations of which Kenyan grower
Rift Valley Roses (RVR)
is exemplary. This is how the 'kaizen' – the Japanese continuous improvement principle – enabled Rift Valley Roses over the years to produce and deliver top-quality roses.
Uhm... Kaizen?
This is what
Wikipedia
says: Kaizen, the Sino-Japanese word for "improvement", is a concept referring to business activities that continuously improve all functions and involve all employees from the CEO to the assembly line worker. You might have heard of the Plan-Do-Check-Act-cycle, or how a clean and organized working place improved productivity. That's also kaizen. Rift Valley Roses have tailored kaizen to their own needs, naming it 'TUKUZA' (Tunaweza Kuboresha Zaidi, Swahili for We Can Improve More).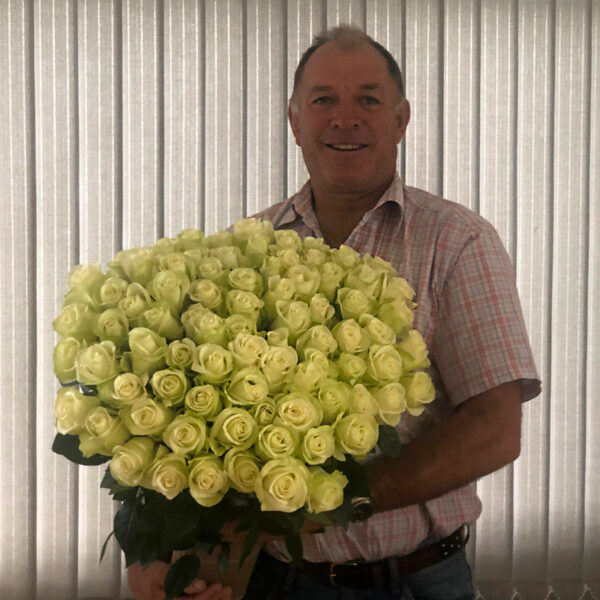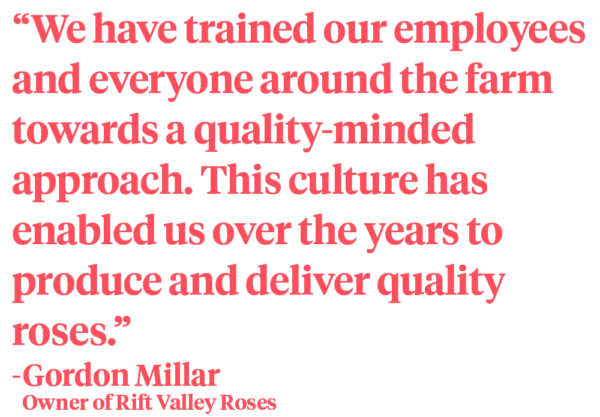 Walking in the Greenhouse
Company co-owner Stuart Millar and farm manager Peterson Muchiri are in the greenhouse with team leader Esther and harvester Jen. Esther is responsible for 27 harvesters and is one of the moderators of the kaizen concept. With this concept, each individual is evaluated to get the most out of them. This also results in data, which the workers can use to improve their production and the quality of the crops. RVR's own continuous improvement program TUKUZA has been exhaustively streamlined in all processes within the farm. This philosophy has QUALITY as one of its main objectives. Gordon Millar mentioned that "We have trained our employees and everyone around the farm towards a quality-minded approach. This culture has enabled us over the years to produce and deliver quality roses." Another benefit of the TUKUZA philosophy highlighted by Peterson Muchiri has to do with the ability to acknowledge any problem at any level, rather than ignoring or pushing it away: "Rift Valley Roses intentionally prefers acknowledging, celebrating, and solving a problem together." It is this culture and philosophy that makes RVR a unique grower, capable of producing quality roses throughout the year for already a decade; yes, in 2021 Rift Valley Roses celebrate their 10th anniversary!
Trial House Benefits
Rift Valley Roses
has a 5,000 m2 trial greenhouse, a space that is dedicated to testing new varieties from different breeders, like
United Selections
. Screening of these varieties is purely carried out under the guidance of RVR's quality standards. All details are important during the trial process, to make intelligent decisions in the end. The outbreak of COVID-19 compelled the company to evaluate all varieties in their farms, to establish those that were unprofitable and thus unsustainable moving forward. United Selections varieties passed the test and several months later, these varieties are doing incredibly well and perfectly align with RVR's quality culture. Rose varieties
Red Torch
, Icon, and Bright Torch have been exhaustively tested under these conditions. The three varieties impressed RVR's technical team leading to a decision to go commercial.
Cutting-edge Varieties From United Selections
United Selections has heavily invested in its breeding process to deliver varieties with cutting-edge traits, varieties that meet the market needs and help clients meet their objectives. The breeder wanted to find out how RVR's farm owner and the farm manager thought about Red Torch, Icon, and Bright Torch. Farm manager Peterson declared that "the most interesting bit about Bright Torch and Icon is their ability to get flaming colors. The market loves and appreciates these colors."

Red Torch
Peterson Muchiri: "Red Torch being a commodity red, has a very impressive production per square meter". The farm has grown Red Torch for more than six years, affirming the fact that Red Torch is indeed a productive red variety.

Who is Rift Valley Roses?
Rift valley Roses
is a farm located in Naivasha, at the Great Rift valley. Since its inception, the farm has tremendously grown to command substantial attention in the flower market. It is easy to understand why roses perform so well at this altitude; the farm is sandwiched between the two rugged edges of the great rift rich in volcanic soils, making it so perfect for roses. Volcanic soils, constant supply of water blended with a very grounded quality culture within the farm, have contributed immensely to the production of quality roses over the years. The farm sells to the Dutch flower auction through their sole agent Fresco Flowers: "The three varieties will be a great fit to your Christmas and valentine needs, go out there and get yourself a bouquet of Bright Torch, Icon, and Red Torch in the market. From United Selections and Rift Valley Roses, we wish you a merry Christmas and a happy new year 2022."
Get in Touch With United Selections
Visiting address: Fraxinus 12 21424 LG De Kwakel Netherlands