In their pursuit to bring more colors and to contribute immensely to the development of a robust floral supply chain, United Selections' recent partnership with WAC breeding goes a long way in contributing to this cause.
WAC and United Selections
WAC breeding is famously known for Catch the bi-colored rose, for the Robins, and Weavers collections among other established varieties. United Selections has a strong footing on the red roses, with the established Madam Red, and also Upper Class, and Red Torch, and recently coming up strongly with their spray roses.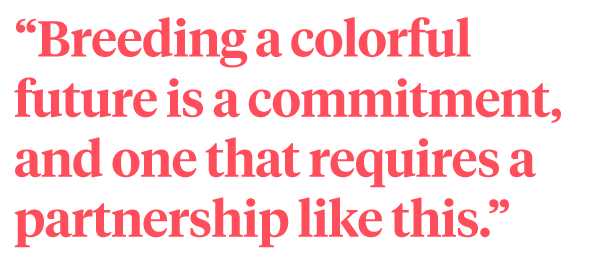 Breeding a colorful future is a commitment and one that requires a partnership like this to add more color choices for growers to choose from globally. In regard to this partnership; trial and commercial requests for all WAC varieties; commercial and new varieties in both Africa and Europe will be handled by United Selections.
Joined Participation
In the coming weeks and months, commercial and new varieties from WAC will be included in United Selections Showhouse in Nakuru, Kenya. To foster this partnership and bring it more to the limelight, expect joined participation for both United Selections and WAC during the open days and other marketing events and exhibitions. All requests and inquiries regarding WAC commercial and new varieties will be attended to by United Selections.