It is exciting times for breeder Dümmen Orange premiering a new white rose that is promised to be one of the top white roses for florists. First impressions are the most important ones and last a long time. The Snowstorm+ rose will be introduced by Fresco Flowers in week 3 of 2021. Before the premiere of the rose in January, what better way than to preview its characteristics and strengths by means of different designs from all over the world? Let's give the white beauty, that has already earned the nickname "The Power Rose", a platform. A select group of floral designers has had the privilege to work with the Snowstorm+ rose. Learn more about these Thursd bloggers' initial thoughts on the Snowstorm+ rose. Below you find a compilation of the designers' first impressions. Follow the full journey of their design in their personal blogs on Thursd.
Nicu Bocancea
In one of the busiest times of the year, this amazing floral designer from Floraria Iris in Bucharest, Romania, still found some time to create an impressive Christmas design. He created an X-mas tree design with Snowstorm+ roses. Nicu excitedly shares on Instagram:
"This is what I want! To do it my way with a new white rose that's soon available worldwide."
Watch the video of Nicu Bocancea's design here:
Alina Neacsa
Alina uses the Snowstorm+ roses as the 'hero' of her design. From her point of view, people prefer white roses for almost all occasions. She finds it smart to always have a few white varieties ready at hand for your customers, and Snowstorm+ roses definitely have all the qualities to be one of them. As a florist, Alina has seen many, many roses in her life and if there's one color that sticks out, it's white, Alina admits.
"Snowstorm+ roses are a great choice for all kinds of events and occasions. A white, versatile beauty like this one lends itself perfectly for birthdays, weddings, anniversaries, you name it. Snowstorm+ is a powerful variety that is very long-lasting and super easy to store. I always keep white roses stocked in my fridge and this reliable variety is a great addition."
Take a closer look at Alina Neacsa's Snowstorm+ design of which she created an interesting "How-To" video.
Claudia Tararache
As a contemporary, modern-European floral designer, Claudia Tararache created a design in which the white roses represent purity, innocence, and youthfulness with a vibrant holiday touch.
"Snowstorm+ roses are delicate and pure, with fine petals that are soft to the touch. It's one of those varieties that really represents elegance and purity. One of the great things about Snowstorm+ roses is that they are super easy to unf This popular technique, often requested by customers and seen in many designs, really allows you to use the rose in different creations and by unfolding the petals, it automatically acquires a very romantic air."
Read more about Claudia's design and the technique of unfolding roses in her blog: Romance Is In the Air.
Lisa-Maria Thalmayr
"Sometimes, grown fresh flowers are just too perfect. They all look the same. This is why I loved working with the Snowstorm+ rose because they open so nicely. The petals of these roses are also so easy to unf It gives the rose a more natural touch. As if she were a wild rose in the garden. With the Snowstorm+ rose, I managed to create an opulent and romantic vibe. In my design, you see the whole process of growth of a flower with its imperfect perfection."
Lisa-Maria of Lis Art from Salzburg, Austria, designed a romantic roses installation in an old building in Switzerland. She shows the imperfect parts of the growth and opening of a rose such as the Snowstorm+. Learn more about her thoughts and her design in her blog: Create a More Natural Touch by Unfolding the Petals of a Rose.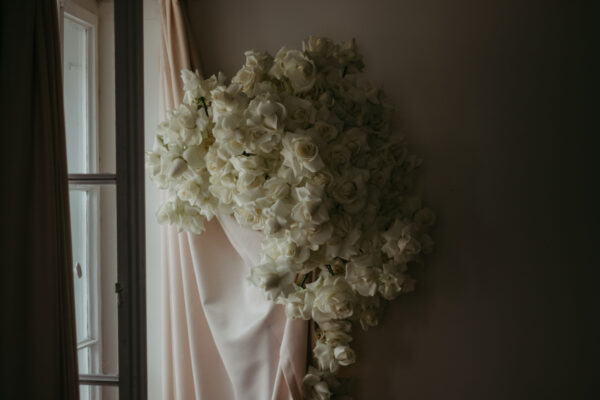 Experts in Flower, Green, and Styling
A few young apprentice Experts in Flower, Green, and Styling of the Helicon Opleidingen in the Netherlands, have experienced working with the Snowstorm+ themselves. A few different thoughts combined show their experience with the so-called "Power Rose". Sanne Westerhof, designer of a soft and airy installation, says:
"The bud of the rose is serene, sleek, and elegant. The color is white like freshly fallen snow. When the bud opens, you see a beautiful full flower that reminds me of a cloud of snow in a stormy winter shower."
Another expert, Fleur van der Tuin, "Thinks this rose has a beautiful white color and gives it a radiant feeling. I also think the rose is suitable for a wedding day." Lieke van Leur, the designer of a fresh and soft installation floating above water, shares with Thursd:
"The Snowstorm+ is a beautiful white rose that brings a freshness that you cannot ignore. You are shaken up. This freshness reminds me of a winter morning in which the most beautiful shades of blue can be seen."
Mikala Forcellini
The core business of the company Mikafolia by Mikala Forcelini is to address florists and trainers coming from all across France. In her line of work, she works with all different types of flowers and techniques. For her, it was also the first time to see and work with the Snowstorm+ rose:
"The Snowstorm+ rose is very pleasant to work with. When opening, it sometimes reveals a beautiful crumpled heart. The rose evolves well, opens nice and gradually, and displays a very pride and honorable stature."
In her designs, Mikala makes the comparison with the year 2020 in which she indicates that she hopes 2021 will be more like this rose, full of promise and freshness. Take a look at her Snowstorm+ design in her blog: Sweetness, Light, and Positivity for Christmas.
Kristina Rimiene
Kristina Rimiene has chosen the floral world as a direction for her life. Kristina is the owner and founder of Studio Flores located in Kaunas, Lithuania. In her studio, she makes floral decoration projects for businesses, events, private parties, weddings. She had the pleasure to work with some of the first stems of the Snowstorm+ rose in her design that's featured in her blog: A Snowbed for a Snowstorm.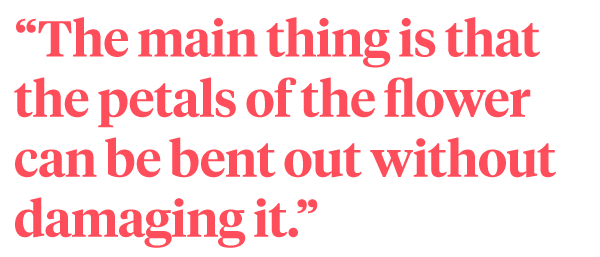 "I loved working with this rose because it has a big blossom, a strong stem, and so few thorns. But the main thing is that the petals of the flower can be bent out without damaging it. That's so trendy when making wedding bouquets. So, I couldn't resist the temptation to base my composition on this particular technique that helps the rose to become even more white."
Angelica Lacarbonara
In the creation of her three-dimensional art nouveau and symmetrical classic shaped designs, Angelica, known for her Italian floral design school Agorà Fashion Flowers, finds out that Snowstorm+ is a beauty that leaves room for creations and restores dreams to brides.
"These roses, with their beauty and robustness, allow easy opening by hand. They are full-bodied and have double petals. The shapes of the wedding are thus revisited with clearly visible high-low and depth movements."
Designers, Show Off Your Creations
When finally being introduced to the Snowstorm+ rose in January 2021, make sure to woo the world with your creations. We want to see and share your designs with all the other industry professionals that #followthursd. If you want to get featured on Thursd, make sure you include one of the hashtags #thursdofficial #thursd #snowstormrose when sharing your Snowstorm+ designs on your favorite social channels. Thursd is always on the lookout for bloggers. Do you like to write about designs and trends in the flower and plant world? Do you have an eye for new developments? Read more about how to become a designer blogger on Thursd.