The Interflora World Cup 2023 has ended with a bang. There is a new world champion to be celebrated, Nicolaus Peters from Germany. The event itself was a huge success. For three days the Manchester Central Convention Centre in the UK was packed with people, beautiful designs, and buzzing with a wide selection of floral activities — not only for the World Cup contestants but also for the many visitors.
Here's a report of three days of floral fun and inspiration, including shared experiences from floral frontrunners from all over the world.
The Village Green
The Village Green was clearly the heart of the action at the Interflora World Cup. This was the place to watch the world's biggest floristry competition unfold.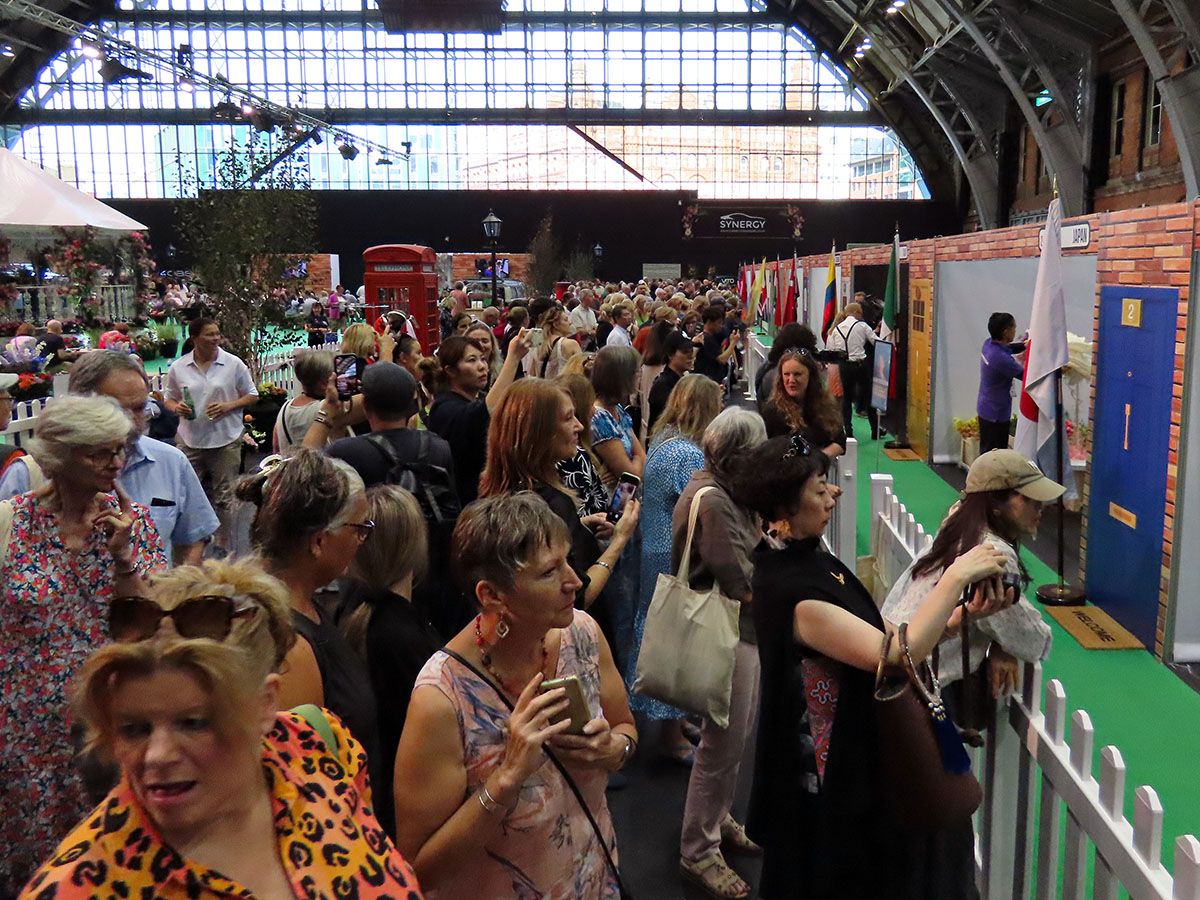 Jenny Thomasson, Competitor for the USA
Jennifer Thomasson has worked for months, offline and online, preparing for this World Cup. She made it to the semi-finals. How does she look back at all this?
"I liked most how all the competitors were so supportive of each other; we really want each other to do well. We were sharing with each other as colleagues, friends, family of what became competitors at this World Cup 2023.

I am very proud of what I have created. I came here and I was able to achieve what was about to do. I made it so the semi-finals. I didn't even know it was a dream that could come true. And it did."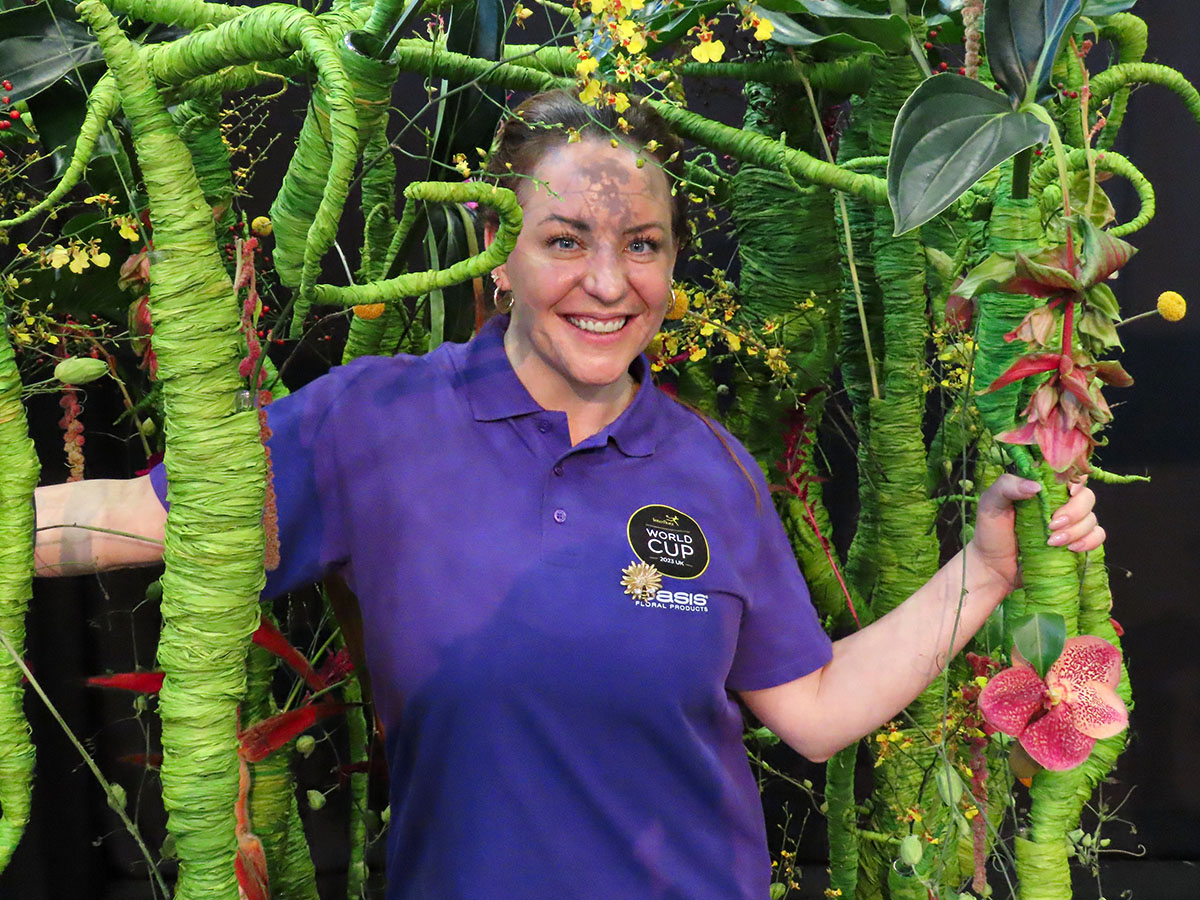 Saija Sitolahti, Competitor for Finland
Although she did not make it into the semi-finals, Finnish Saija Sitolahti's experience at the World Cup did not finish yet. She takes all her experiences home to become an even better floral designer:
"I found this a very nice experience. It's wonderful to meet people from all around the world and see their designs. We have spent the whole week here together, so we have become quite close also. I take back to Finland all these beautiful designs that I see right here, and will try to do something new with this too."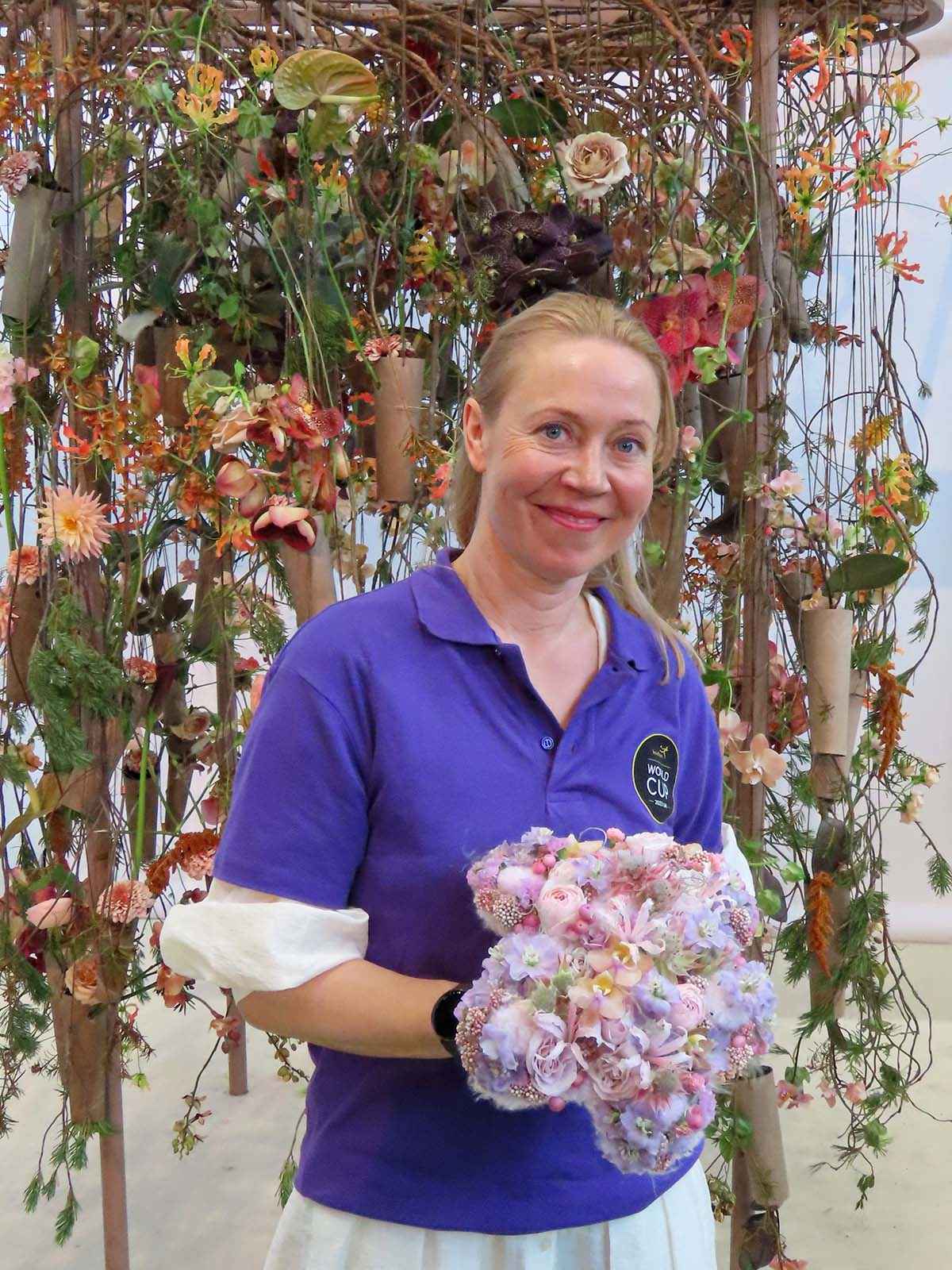 Thanh Tran, Competitor for Vietnam
Thanh Tran from Vietnam's journey at the World Cup ended after four tasks. He started the last day of the event by giving all the other contestants a present from Vietnam, which shows the friendly competitiveness of the World Cup. What does he take home to Vietnam?
"I am a young designer from Vietnam, and my country is a new kid in town for the floral industry. I want to bring the feeling, the emotion of Vietnam to the world. Therefore I have used many crafted materials from my country in my designs here.

Since this is the first time that I come to this event, I gain a lot of experience. I really learned a lot from all these designers from around the world."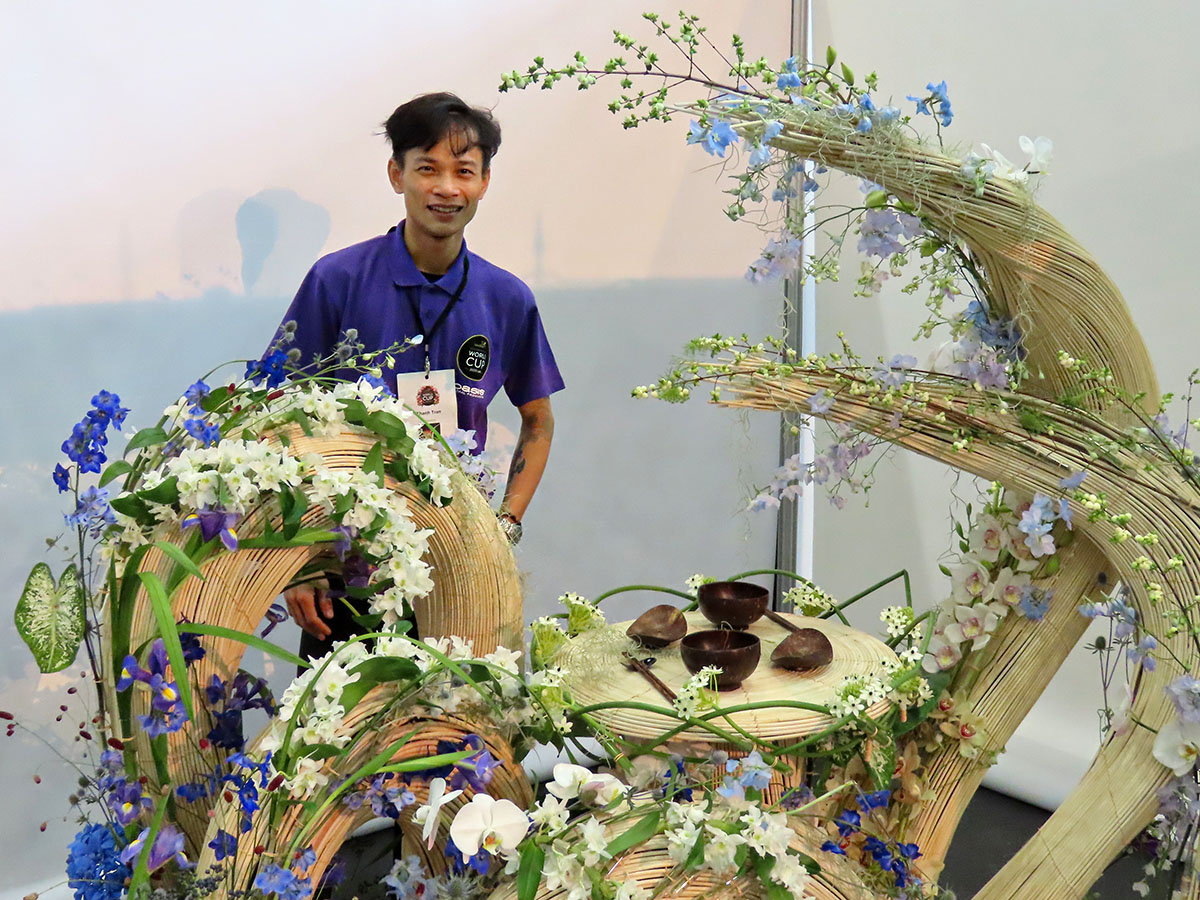 Katharina Albrechtsen, Competitor for Denmark
Katharina Albrechtsen from Denmark was one of the semi-finalists so within the top 10 of the best floral designers at the Interflora World Cup. She explains how hard this competition is:
"It's a big experience. And it's the hardest thing I have ever done. It's big pressure, I was so nervous. I think by just saying "This is the World Cup" is big. And all the competitors here are so good. After months of preparation, you still feel "Am I good enough?", which means a lot of pressure.

But yes, I am happy with the result. I did all I was supposed to do. I did not expect to be in the top 10, so I am pleased and happy."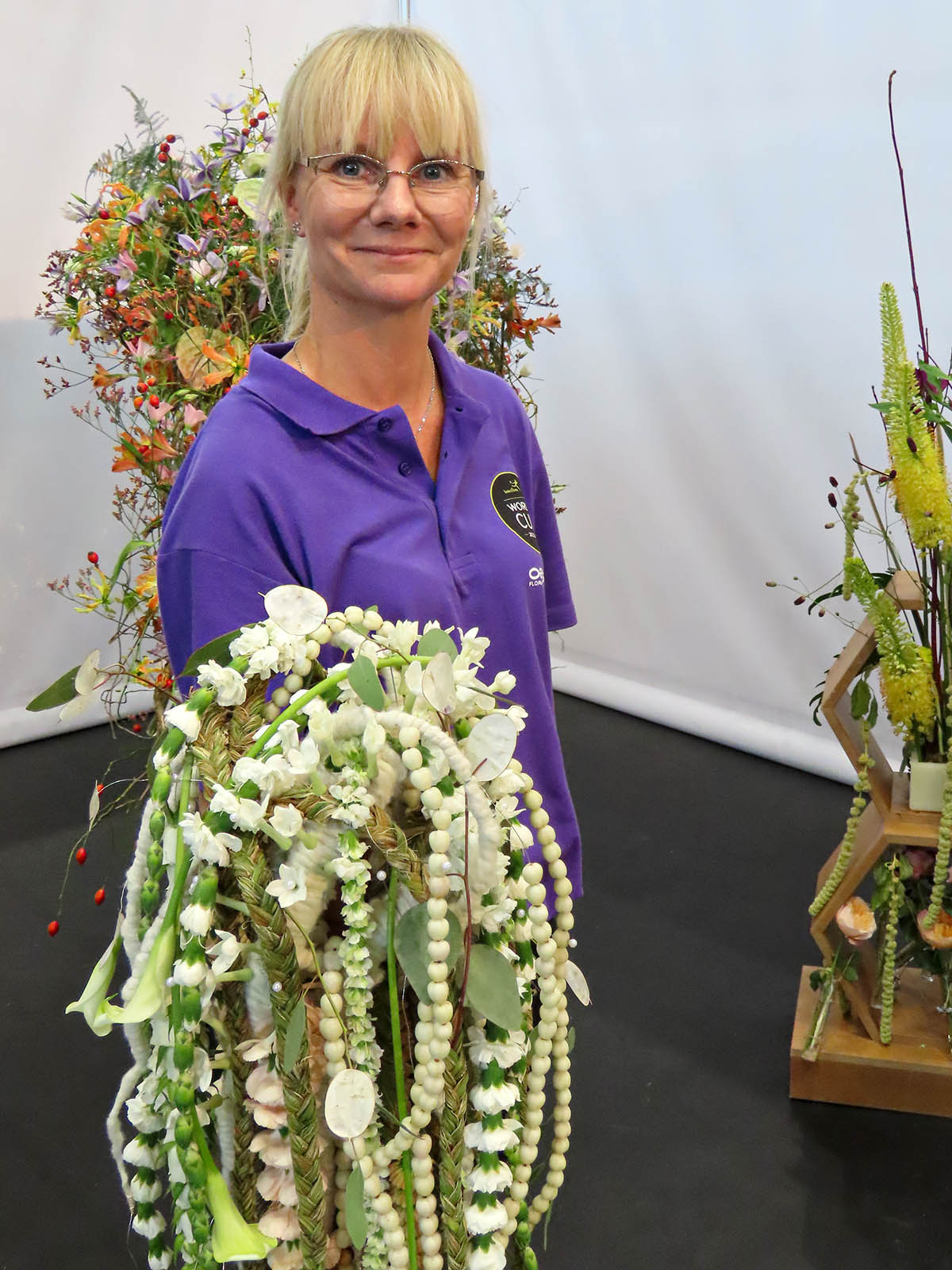 Solomon Leong, Competitor for Hong Kong
Solomon Leong has made some brilliant designs at this World Cup. Unfortunately, his quest for the world title ended in the first round.
"It's been fascinating, inspiring. Above all, it's a great platform, this competition, for the love of flowers, for everyone."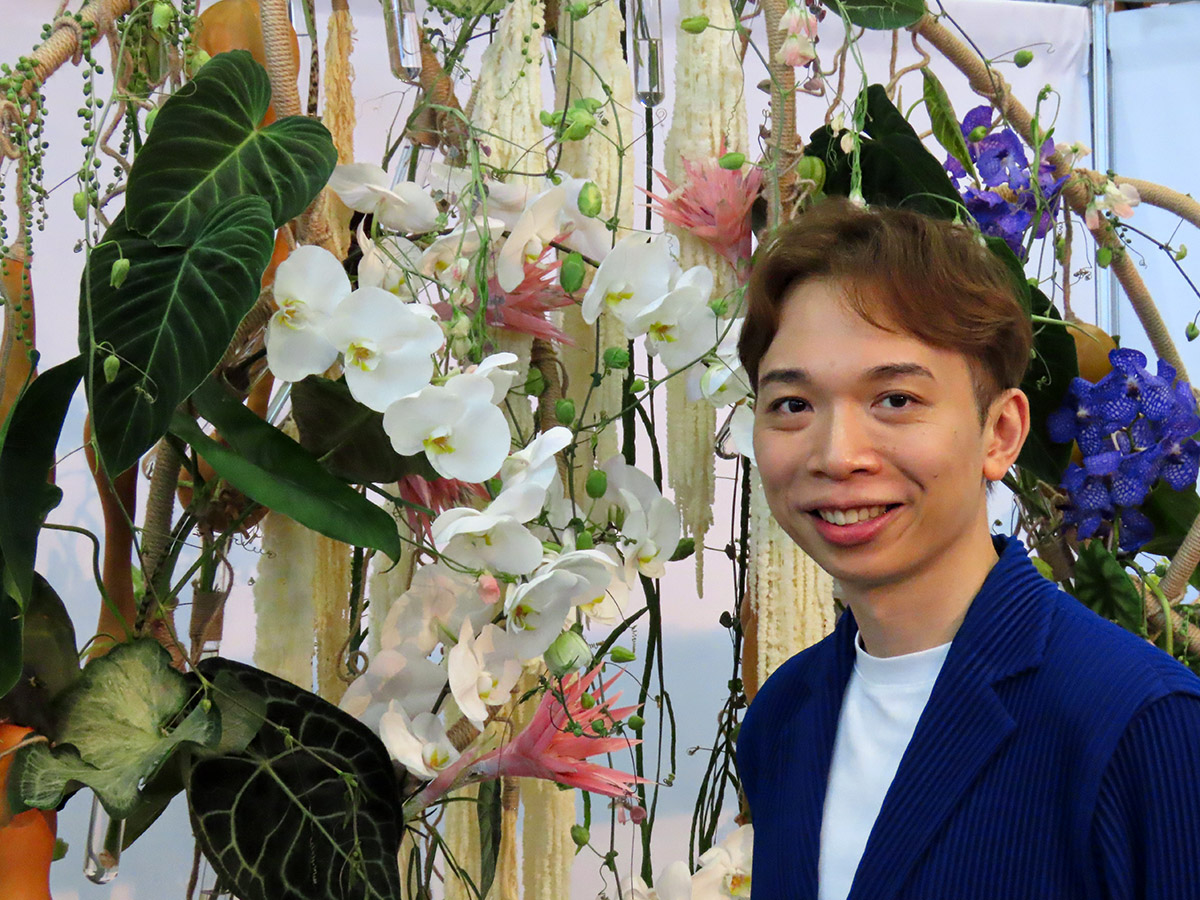 Monica Garcia, Competitor for Peru
Monica Garcia from Peru has had a hectic week at the Interflora World Cup. Despite some logistic mishaps, she competed like a lioness and looks back happy at her participation that ended after round one:
"I look back happy to the World Cup event. Just to be here, competing, is so amazing, so very important for my country. I have had so much support from everyone. That's why I am very satisfied."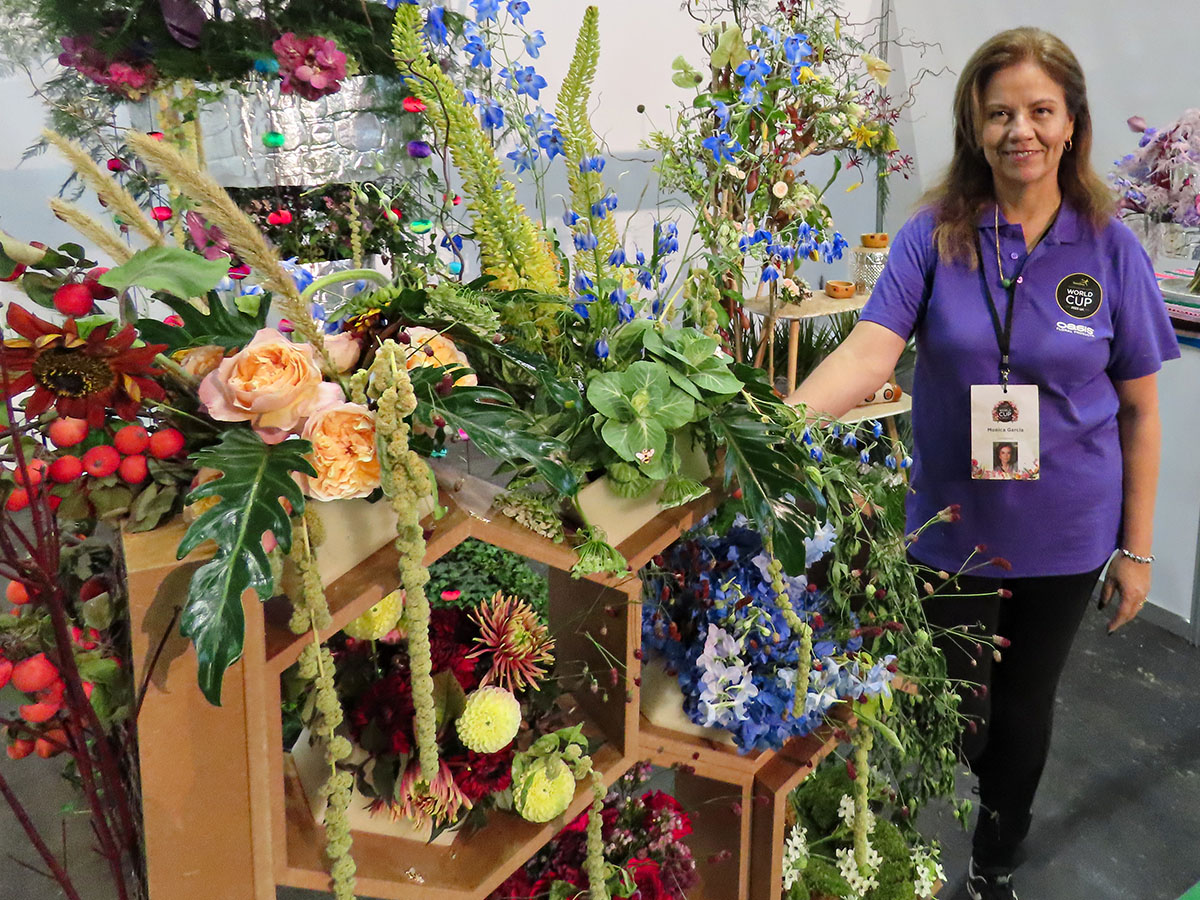 It was also the place to participate in a whole program of inspiring floristry demonstrations led by some seriously talented floral designers from NAFAS and Floral Fundamentals and to relax and enjoy world-class musicians playing for your entertainment.
What Industry Frontrunners Say
Walking around the Village Green it is impossible not to bump into so many of the floral frontrunners, florist industry leaders who have made their mark on the floral business and are here to watch, judge, tutor, support, learn, and enjoy. Many of them give workshops, tutorials, and demonstrations during this event.
Alex Segura

Alex Segura from Spain is one of the judges of the event:
"For me, This is the place to be; it is an important event to visit. And it is good to see that everybody really is here. This will make our industry grow more and make our trade more popular."
Tomas de Bruyne

Tomas de Bruyne is an entrepreneur, floral designer, and teacher with European Master Certificate, EMC about the level at the Interflora World Cup:
"The best florists in the world are here, the level is very high. It is not about "who is the best, but in who excels in being more than the best". I see all the inspiration, so many beautiful designs, and wonderful color palettes. I think every florist ought to be here."
Mickaël Rault

Mickaël Rault, artisan and 'Meilleur Ouvrier' (craftsman) in France in 2018:
"It is important that this competition is being held. I am, obviously, supporting the French candidate, but it is important for all these designers from all continents to be at an event like this. I watch what they do, and how their works evolve because we must all go forward and learn. And it is good to see so many all the visitors."
Helena van Achterberg

Helena van Achterberg is the creative content specialist at Marginpar. Next to an iconic British red phone booth filled with a design with flowers such as clematis and gloriosa, she explains the importance of her company showing its flowers right here:
"Marginpar is one of this event's main sponsors. You see our flowers in the various demonstrations, workshops, and of course with some of the competitor's designs, including during the grand final."
Zbigniew Dziwulski
Zbigniew Dziwulski, floral designer from Poland.:
"I am very happy to be here. There are so many new things to see. I came to Manchester to be inspired; to see beautiful flowers and arrangements. But also to meet friends and make new friends. I simply love to be here."
The Florist Zone
For visitors with floristry experience who wanted to unleash their own creativity at the Interflora World Cup, the Florist Zone was the place to be. Five of the most talented, passionate, and innovative floral designers from across the world lead action-packed floristry workshops and demonstrations, including the 2019 Interflora World Champion Bart Hassam.
Bart Hassam, the 2019 World Champion

Bart Hassam from Australia is the 2019 Interflora World Champion. He knows best what this year's winner can expect:
"The new champion can expect a big change in his or her life really. It is quite a strange thing to be the winner of the World Cup in floral design. It's one thing to be the winner and being regarded as such. What people don't tell you, is that from that point on everyone expects you to have the answer (laughs). They expect you to always be right. That's a lot of pressure to put on one person.

So, the new champion is going to have to learn to manage expectation and try to be true to who you are as a floral designer. Because, inherently, we all love flowers and design. And we love to do what we do, and we should just continue on that same course, whether we are the World Champion or not.

Yet, I liked being the World Champion, despite that I had a pandemic in the middle that sort of got in the way. But it has been a great experience. I've been so lucky to travel, to go to different countries, work with different material, with different people, in different areas doing many many different things. That was always the dream when I was very little. My first boss said: "Oh, you'll probably do this one day, you'll probably go to a World Cup." I mean, that's a far-off dream. So, to be able to be here now, to do that is a joy."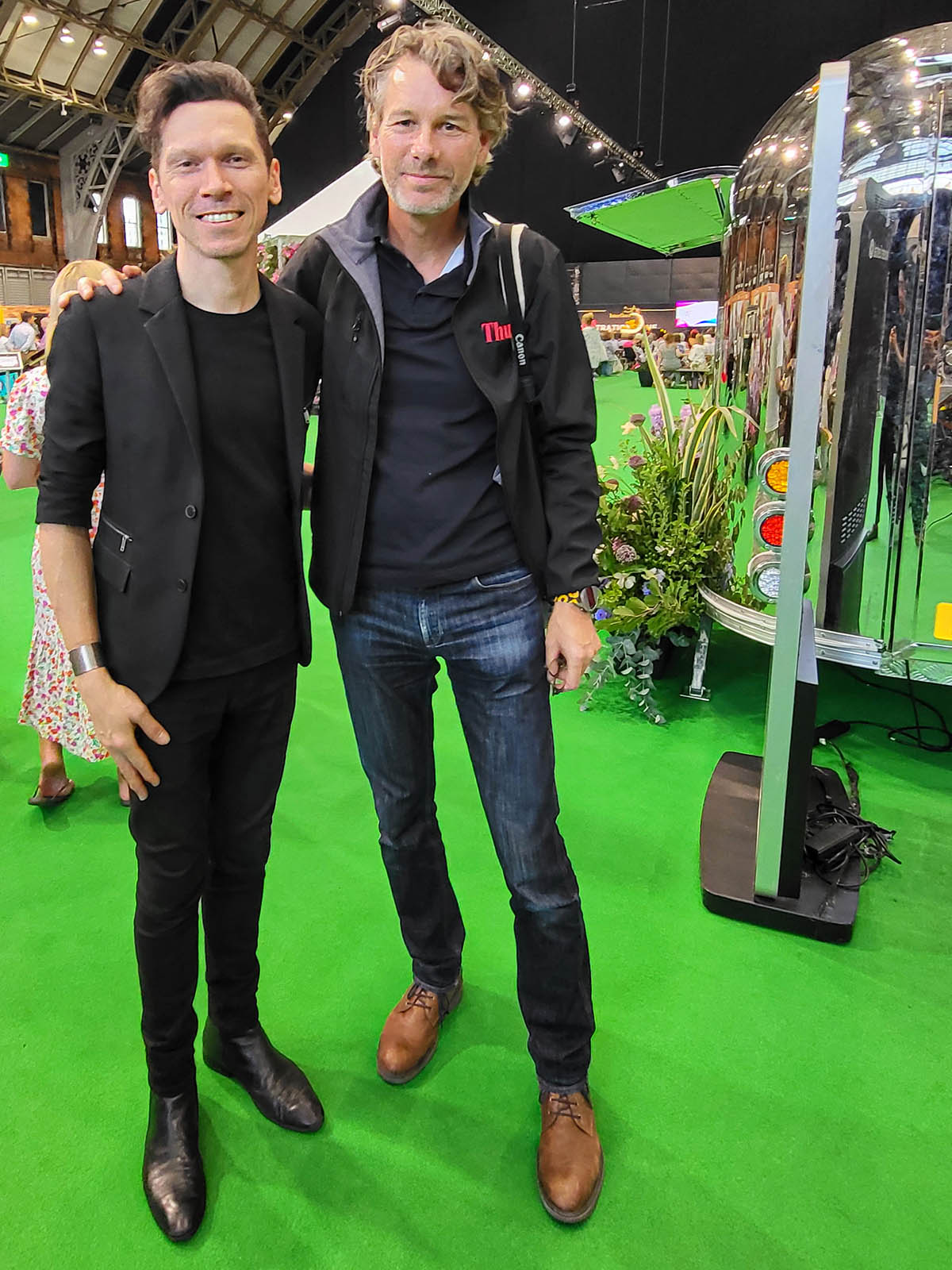 Ivan Bergh

Ivan Bergh from Italy is a flower designer and teacher with his own Ivan Bergh Floral School. Ivan is giving two demonstrations at the Interflora World Cup:
"This is one of the best events in the last ten years. The organization is very good. The competitors are doing a very good job. Also, the demonstrations by Floral Fundamentals are very well organized. It was very clever to put this all together like this."
Krisztián Kövér
Krisztián Kövér is a Hungarian Master Florist. With the competition's theme 'Our Natural World he must be at his place here because Krisztián's works are often characterized by finding the balance between wild nature and sophisticated design:
"I had a chance to perform a demonstration myself here, together with Chantal Post from Belgium. I think this is a fantastic and beautiful area here with very good designers from around the world. A brilliant place to be."
The Creation Zone
Country Baskets, UK's largest wholesaler of floristry supplies & artificial flowers, ran four creative workshops each day at the event. This enabled flower lovers — with or without any experience — of all kinds to get involved in the action. There were plenty of floral wristlets, floral fascinators, autumn wreaths, and natural dried fans created, all to take home for the participants!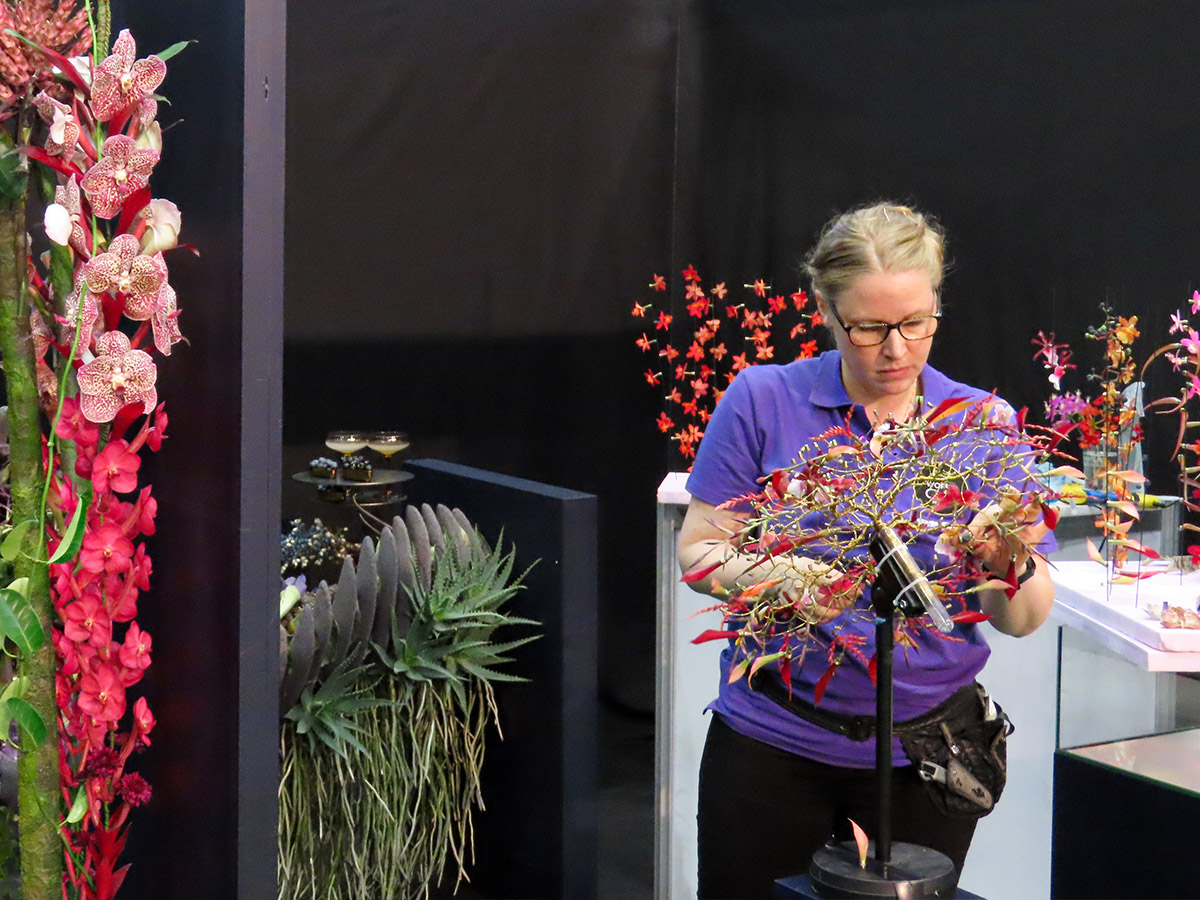 The Inspiration Zone
Next to all of the excitement of the competition, there was plenty of possibility to listen to interesting and educational talks taking place daily in the dedicated Inspiration Zone. This area offered everyone a wonderful chance to learn and be inspired.
Pauline Arkesteijn
Pauline Arkesteijn is a floral designer at Pien Flowers from the Netherlands:
"It is beautiful to see how many arrangements have been made here and with such special techniques. It is such a pleasure and relief to walk around here and look at everything that has been created."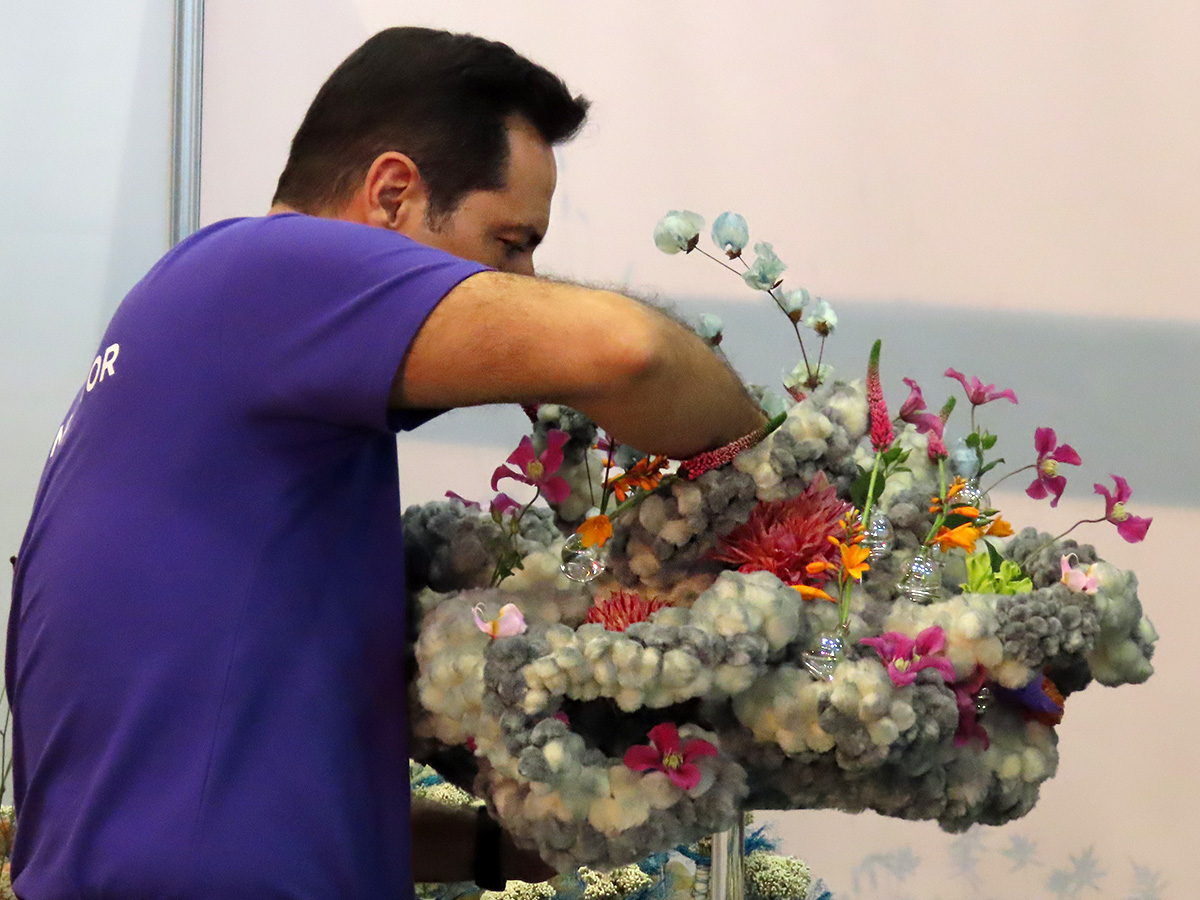 Three Days of Floral Celebration
It's a long wait until the next Interflora World Cup, for sure. Because after the exhausting three full days at the Manchester venue, the floral world is already looking out for the next edition.

Max van de Sluis
Max van de Sluis is a floral champion from the Netherlands:
"I see the top level from the best designers from the participating countries. Of course, there are some favorites, but in general, every country has sent its very best designer."
Kirsten VanDijk
Kirsten VanDijk from the United States is CEO of New Age Floral:
"I am flabbergasted and just in awe of what the designers have been able to put together. Especially Thursday's surprise package which included a structure that was given to them that emulated a beehive. It was a lovely idea: from pollination, from the dirt, from nature back a design. Hopefully, all of these designs will end up as compost somehow.

The World Cup of Floristry is a wonderful platform for all designers to share their floral vision, and to come together in unity. Hopefully, we'll all grow toward a more sustainable future."