You will find that looks can be deceiving and a rose's fragrance can be, therefore, quite surprising. There is more to it than meets the eye. Take, for example, a rose like the Lemon Pompon. What kind of scent would you expect? A fresh, lemon-like smell, right? Well, you'd be surprised to find out reading this story what she really smells like...
The Loveliest Scents
Alexandra Farms is a boutique grower specializing in nostalgic, romantic, fresh-cut garden roses. These roses are developed by renowned breeders, like David Austin Wedding & Event Roses, Roses Forever, Wabara, and Continental Breeding, and are proudly grown in Colombia by Alexandra Farms.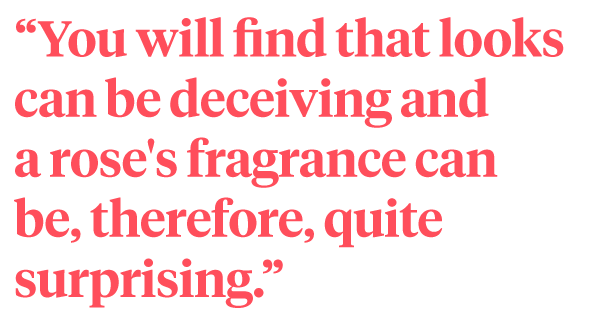 These are no less than 30 of the loveliest scented roses by Alexandra Farms, ordered by their fragrance. Unfortunately, it is not possible with today's technology to let you experience the wide palette of fragrances, but just read the description, watch the images, and allow your imagination to do the rest.
Fruity Fragrances
Fragrance: Fruity tea with a touch of sandalwood.
Awash with raspberry red and rich berry tones, Darcey is popular in summer or winter. Full of individuality and intrigue, soft blooms gently unfurl to perfect rosettes.
Fragrance: Sweet and fruity, with undertones of myrrh.
Edith is an unusual two-toned bloom with shades of apricot, gold, and yellow with a halo of soft pink outer petals. A wild card among the David Austin varieties, its vivid flamboyant character embodies a relaxed vibe.
Fragrance: Fruity with hints of spring flowers.
Miranda courts attention with sugared almond shades and a decadent cherry blossom center. Its large, shapely rosette blooms with outer petals flecked with a natural green that gradually unfurl and folds back.
Fragrance: Fruity, with hints of apple and pear.
Constance is so feminine with layers of ballet pinks and deeper hues opening from a cream heart in a billowy ballgown shape. Each rose is different from the palest cream and pink to deeper pink tones, but all are equally enchanting.
Fresh Citrus Fragrances
Rose Leonora™
Fragrance: Citrus and cucumber.
Leonora's creamy, ivory petals unfurl into a beautiful ruffled bloom with a central cluster of stamens. Its pure simplicity perfectly evokes a relaxed style.
Fragrance: An intense and clean scent of Old Rose fused with lemon.
Patience's milky white petals have a classic creamy center with hints of pale, buttery yellow. Naturally elegant soft buds ruffle out into sculpted yet delicate cups.
Fragrance: Citrus.
Starting off small and shy, Sabrina is emboldened as it opens into a perfectly symmetrical rosette with a button center. A splotch of light pink is framed with rounded, layered white petals. Bred in France, Sabrina is both romantic and stylish, a couture rose fast-tracked into production following its sensational debut in 2018.
Fragrance: Citrus.
With fringed, disheveled petals in vivid pink, Yves Piaget makes a striking impression. Its large, bowl-shaped flowers are said to resemble peonies; they carry a strong, fresh citrus scent. Like her namesake — the chairman of the luxury brand of watches and jewelry that also bears his name and a passionate advocate for garden roses — Yves Piaget, the rose, is a charming and charismatic icon of romantic style.
Rose Fragrances
Fragrance: Very light rose.
Touch Ashley's petals and you will be surprised at how sturdy and substantial they are. This rose opens fully into quite an extraordinary shape: a flat rosette with outer petals that cover the stem below and a complex swirling center. Its color, too, is notable—an intense medium pink suffused with hints of lighter and darker pinks that give added depth to the flower form. It has a very light rose fragrance.
Fragrance: Rose with a touch of citrus.
Characterful and eye-catching, Capability makes a dramatic statement with an explosion of bold, fuchsia pink. Passion and personality shine through perfectly formed rosettes.
Fragrance: Very light rose.
"Caramel and cream" beautifully describes the distinctive color of this large, impressive, high-fashion flower, which has lighter tones near the edges and darker tones in the center. Caramel Antike retains its spherical shape as she opens just wide enough to reveal a multitude of overlapping petals. A light fragrance adds to her charm. This rose is the 'sister' of Romantic Antike.
Fragrance: Rose.
Rich in both petal count and its buttery yellow color, Lemon Pompon opens all the way to an inviting, layered rosette with a light rose fragrance. Its multitudinous, sunny petals make complex patterns inside an outer circle of paler blond.
Fragrance: Rose.
An outer frame of white petals, with overlapping, scalloped edges does much to enhance the tender pink of the center petals of Mayra's Bridal Pink. Its very romantic colors and light rose fragrance make it an ideal choice for wedding work. This rose is a 'sister' to Mayra's Rose.
Fragrance: A fresh and distinctive scent of rose water.
Purity's pearly white petals have a delicate hint of peach and a romantic dusting of blush in the center. Feathery light petals open from a small bud to a magnificent open, relaxed bloom.
Fragrance: Rose.
The delicious light pink at the heart of Tsumugi blends to pale pink on the outside. As it opens, it fills a large cup with swirling petals lightly scented with lavender, making it easy to understand why this rose received the name Tsumugi, which means "spinning graciously."
Lavender Fragrances
Fragrance: Sweet violet, musk, and vanilla.
Charity's peach-pink petals have a touch of whimsy and drama with a stand-out lime green stamen - a surprising and delightful botanical twist for a playful and modern choice.
Fragrance: Lavender.
Breaking all the rules, Free Spirit offers in one rose a whole bouquet of luscious, bright, and cheerful colors that change over time and from one flower to the next, setting vibrant, flirtatious hues next to one another like the swirling skirts of a flamenco dancer. Her spiraling, wavy-edged petals come in persimmon, gold, and a range of pinks set off against dark green foliage. Adding to her charm is her light lavender fragrance.
Fragrance: Lavender.
Bred in France, Pink O'Hara brings a light confectionary pink to wedding bouquets and other romantic floral designs, along with a rich lavender perfume. Its color tends to be deeper in the center, where the petals form the classic four hearts, and lighter on the outside, where they may roll into starry points. Its petals are gathered into a large bloom that is a little airier than is found in some other garden roses, for an effect of depth and texture within the blossom.
Fragrance: Lavender.
A medium to large rose with a seductive but not overpowering fragrance of lavender, Princess Hitomi (Beautiful History) is remarkable for its pure color, a cotton-candy pink. Because the tone of the hue is so even, it brings to the fore delicious contrasts in the form of its petals: the inner petals are rolled into four hearts, while the outer petals curl under into a layered array of starry points. This Japanese rose blends baby-girl innocence and sophisticated style.
Rose Princess Kaori™
Fragrance: Lavender.
Princess Kaori wafts a sweet yet subtle scent that matches its extraordinary color: a bluish medium lavender, likewise both rich and delicate. The cabbage shape puts that color on opulent display, as subtle white margins on the outer petals give definition to each curved, overlapping edge.
Fragrance: Lavender.
With petals of a pure light peach, Princess Maya (Night Rain) opens into a medium-sized rose with outer petals that curl under, forming starry points, and inner petals that make elaborate folds in the classic garden-rose quartered pattern. Its size, color, and light rose fragrance make Princess Maya a particularly apt choice for a bridal bouquet.
Fragrance: Lavender.
The term "cabbage rose" could have been invented for Romantic Antike. With its extra-large flower heads in muted pink, tending toward salmon pink in the center, this rose could be plucked from an old Dutch Masters painting. Along with its light lavender fragrance, it offers high impact, high value, and a wealth of romantic associations. This rose is the 'sister' of Caramel Antike.
Fragrance: Lavender.
It is rare indeed to find a white rose that is also highly fragrant. Vitality fills the bill, opening all the way into a large, high-centered bloom with ruffled petals that are pure white on the outside and creamy at the center, and a heady lavender scent.
Fragrance: Lavender.
White O'Hara begins its life as a small blossom with a little green on the outside petals and a little pink on the inside. Once it has opened all the way, it presents a perfect, creamy white rose with just a hint of blush ivory deep within its quartered center petals. Distinctly French in style, this rose offers a rich lavender fragrance and looks beautiful however you use it.
Rose Myrrh Fragrances
Fragrance: Myrrh with hints of fruit and almond.
Ideal for sunny country or seaside weddings, joyful Beatrice radiates with warm buttery yellow and light blondes. Its ruffled swirling center opens out to a shapely rosette.
Fragrance: Myrrh and aniseed.
A delicate and divinely colored rose, Eugenie has a pretty blush apricot and peach center that diffuses outwards to paler, creamy tones. Its wonderfully frilly petals are both captivating and characterful.
Fragrance: Myrrh with overtones of almond, marzipan, and vanilla.
Keira's marbled petals are a playful mix of creamy marshmallow and mid-raspberry pink. Ruffled and romantic, each and every bloom is gloriously unpredictable.
Fragrance: Myrrh and licorice.
Princess Miyuki (First Snow) embodies its name and evokes the fresh purity of her color. It is rare to find a pure white rose, especially one with a romantic fragrance, but this variety's large, high-centered blooms smell deliciously of myrrh — a rich, warm, sweet yet spicy fragrance reminiscent of aniseed.
Rose Spicy Fragrances
Fragrance: A lovely scent of tea.
Creamy buds unfurl to reveal a memorable heart of buttery yellow, dusty apricot, and zesty orange. From a cupped bloom, Effie gradually opens to a perfect rosette, showcasing its splendor.
Fragrance: A hint of tea.
A very English period red rose, Tess oozes blackcurrant red tones and sparkles with a shimmering gold stamen. The velvety textured and deep ruffles are both dramatic and nostalgic.